COLLECTOR'S ITEM FOR SALE
Charles Mansonís release papers from the Federal Correctional Institution, Terminal Island, Los Angeles, California.
From early 1956 to late 1958 Manson was imprisoned at Terminal Island for stealing a 1951 Mercury. In 1961 Manson was convicted of trying to cash a government check and was first sentenced to McNeil Island in the state of Washington. He ended up back at Terminal Island in 1966. When he was released in 1967 he told the releasing officer he didnít want to leave.
This is the one-of-a-kind document that the young Charles Manson personally signed when he was released from Terminal Island before he went off into the perdition of which we all are familiar. His now, well known probation officer signed a second parole form. This gave Manson permission to go and seek family and employment. He was not able to locate his mother.
This is a great investment!
Letters from Manson are abundant. But these are rare documents that (according to past history of collectible items such as these) the value of which will greatly increase after Manson dies.
All written articles, TV specials, films, etc., mention Charles Manson signing out for release and leaving FCI, Terminal Island.
THIS IS THE ACTUAL DOCUMENT HE SIGNED!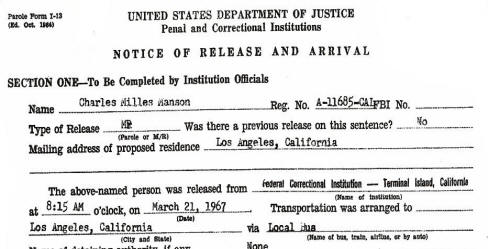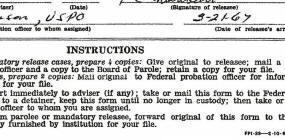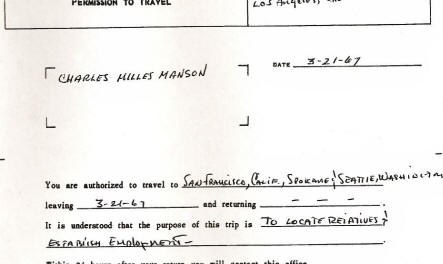 | | | |
| --- | --- | --- |
| | Price for both documents: $5,000 USD | |
A Bank Check or PayPal / Credit Card are the only accepted forms of payment. If you are interested in making this purchase please email
for further details. Please use the words "Manson Documents" in the subject line of the email.
Shipment of documents can be made to anywhere worldwide.
Special Notice:
We have been experiencing some problems with email sent from this website. So if you do not get a reply in a reasonable amount of time then please use the following email address in your email program and resend your email:
tzmc_webmaster@rocketmail.com