Ecobee smart thermostats are one of the most common devices found in most households. With this, you can manage the house's temperature either using your phone or the device itself. Many times, you must have heard that Ecobee says that Ecobee is calibrating.
The users often come with the question that 'my Ecobee is calibrating. But do not know the reason behind it. So, with this article, we will read what does this means. The tutorial will explain this.
When you install Ecobee for the first time or after rebooting, you must install it, then the device will calculate the temperature of the room, and then you get the above message. This process will take approximately 20 minutes.
Listed below are the various reasons why a device will calibrate. This will give you the answer to the question of why my Ecobee calibrates
ecobee Lite SmartThermostat, Black
Save up to 23% annually on heating and cooling costs (compared to a hold of 72°F)
Control from anywhere using your Android or iOS device
Add SmartSensor to manage hot or cold spots and deliver enhanced comfort to the rooms that matter...
Automatically pauses your HVAC system anytime a door or window is left open (requires ecobee...
Integrates seamlessly with your preferred smart home system
Reasons For Ecobee Calibrating or Troubleshooting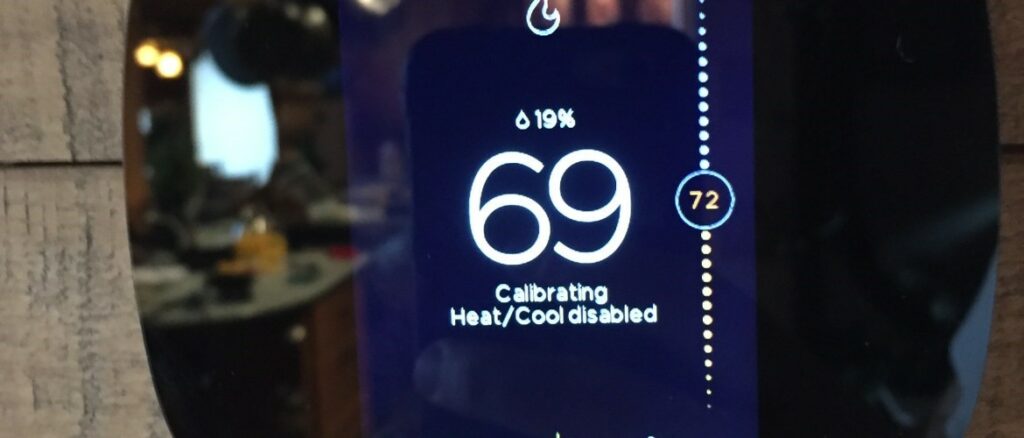 Often you find your Ecobee calibrating. There are various reasons for this. Below are the reasons for this. Read the reasons to know the answer to why my Ecobee calibrates.
A Usual Error
Once you have installed Ecobee at your home, it is possible that it may face technical errors while it is trying to adjust to the new environment. In case if it does not meet the real temperature, then it might require calibrating.
Currently, you see the message of calibrating. Here you can try to manually adjust the temperature. This can be quickly done through a display screen. You can go on settings, then click installation settings, and go to thresholds.
Finally, go to temperature correction and change it to the desired temperature.  This whole process will only take 20 minutes to complete, and your Ecobee will work perfectly. This is perhaps one of the answers to your question about why my Ecobee calibrates.
Power Outage
The Ecobee may calibrate in case there is any sort of power cut may be due to bad weather, damaged wiring, or even if you turn off the switch. Your Ecobee can calibrate for all these reasons.
You will see the screen of Ecobee as black, and power will be on and off again and again, and you will get the message of calibrating. Even customer care also says the same thing.
Does Not Get Enough Power Source
The Ecobee may calibrate even when it does not get a continuous power supply of 24VAC all day long.  The Ecobee will not start if it gets uninterrupted supply, then it will calibrate. It will not work properly till the time power is restored again. In case of failure of HVAC's protection feature, then it can result in power loss.
Wiring Issue
In case if there are wiring issues and the wires do not connect exactly to the backplate, then there are issues with the thermostat. If the wires are connected correctly, which means that they are completely fitted, and there is no space between the two, then the power will be on, and you can see calibrating message.
When It Is Being Used for The First Time
A calibration message can be seen when you start the Ecobee for the initial time. Calibrating message currently implies that the Ecobee is initializing and recording the temperature of your house. The message will be there for 30 minutes, and then it will be like before after that.
In case this message remains there for a longer period, then it means there is some problem with the Ecobee, or the way you have installed it is not correct.
Calibrating Message Is Seen When You Reset It
Whatever may be the reason for you to reboot Ecobee, when the process starts, you can see this message.
When It Turned Off
You may be wondering why my Ecobee calibrates. So, one of the reasons for this may be the Ecobee is turned off. In case you want to install Ecobee at a different place or in case you switch your mind after purchasing Ecobee, then you may turn it off and then again on it. At this point, you will see a calibrating message.
Calibrating Message Is When It Will Keep Restarting
There are many reasons for you to restart your Ecobee, due to which it may reboot and see a calibrating message. In case the heater may heat more than required, that can trip the sensor, and no power is reached to your Ecobee.
Or the other scenario can be that the HVAC system cuts off the power. So, at this time, it will restart, which will lead to the calibrating message.
Humidity Settings in Your Home
Ecobee can effectively measure the humidity of the house. This is because of the certain sensors that are present in the Ecobee that can effectively measure the humidity.
If it shows an incorrect temperature reading and humidity level, then it may recalibrate and take 20 minutes to start working again properly.
You can fix the setting with the help of settings in the Ecobee. You can do it 10% up/down, which will give one more calibrating memo.  So lastly, one of the reasons for your question why my Ecobee calibrates is humidity.
Conclusion
So finally, there may be nine reasons that can answer your question about why my Ecobee calibrates. When you face such an issue with the Ecobee, you can check the above reasons and fix it.